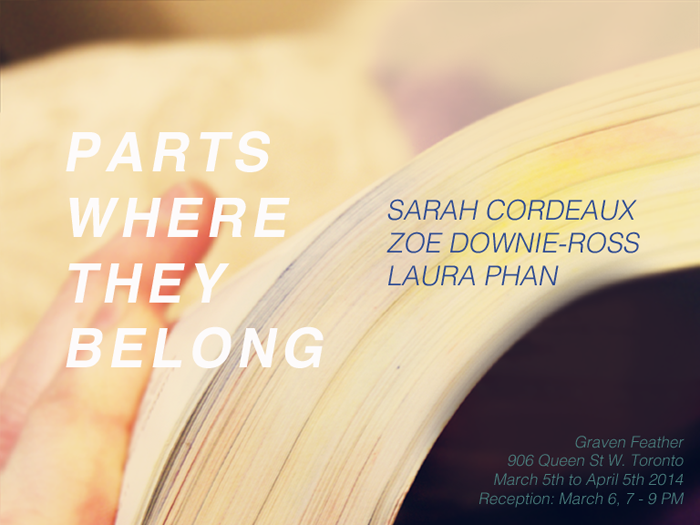 Upcoming show at Graven Feather curated by Sarah Cordeaux. The show feature works by Zoe Downie Ross, Laura Phan and Sarah Cordeaux.

Cambridge Galleries, Cambridge, ON | July 5 – August 25, 2013 | Opening Reception: July 5 @ 7pm

In its fifth year, and its largest edition to date, theSHOW.13, presented by Cambridge Galleries, Queen's Square, and curated by Iga Janik, brings together 18 emerging artists from across Ontario whose works, processes and preoccupations are the newest and latest in the ever-changing world of contemporary art. The exhibition is exclusively dedicated to those new on the scene, and gives necessary and well deserved voice to the most ambitious and dedicated.
One of my works was featured in Kaleidoscope, an arts journal ran by the undergraduate students at the University of Guelph. You can download the issue here.

Boarding House Gallery, Guelph, ON | March 29 - April 27, 2013, Opening Reception: March 28 @ 6pm

Featuring:
Sarah Cordeaux, Juliane Foronda, David Winfield, Paul Chartrand, Zoe Downie-Ross, Patrick Beh, Yusuf Rahmaty, Laura Phan, Nicolas Good, Kimberley Vanderweyden, Whitney Arnott, Colleen Savage, Alexandra Zieger, Nadine Maher, Jazmyn Pettigrew, and Tyler Muzzin.